Whenever I sit down to play a video game, I try to look out for the feelings and emotions that the game might provoke. From the second I started playing Far Cry 6, I felt everything from fear, excitement, sadness, and hopefulness, to happiness. In this article, I outline some of the reasons why this game feels so special for a Latina player, as well as provide some cultural insights. 
The Far Cry Franchise  
Far Cry 6 is the first game of the saga with a storyline that hits close to home if you live in Latin America. If you don't know the series, Far Cry is an Open-World FPS, unique in that it focuses on the gamer's individual experience. This latest chapter of the game is set in the present day and takes place on a Caribbean Island named Yara. This article contains spoilers, so please be warned if you haven't played the game yet. 
You get to play as Dani Rojas, a guerrillera or guerrillero, depending on your choice, whose job is reuniting the different guerrilla factions to work toward the country's freedom.
The location is strongly influenced by Cuba, not only aesthetically but also politically. According to Khavari, Narrative Director at Ubisoft, they wanted to tell a story about revolution, and when you tell a story about revolution, you're talking about guerrilla warfare. And when you are talking about guerrilla warfare, you're talking about Cuba.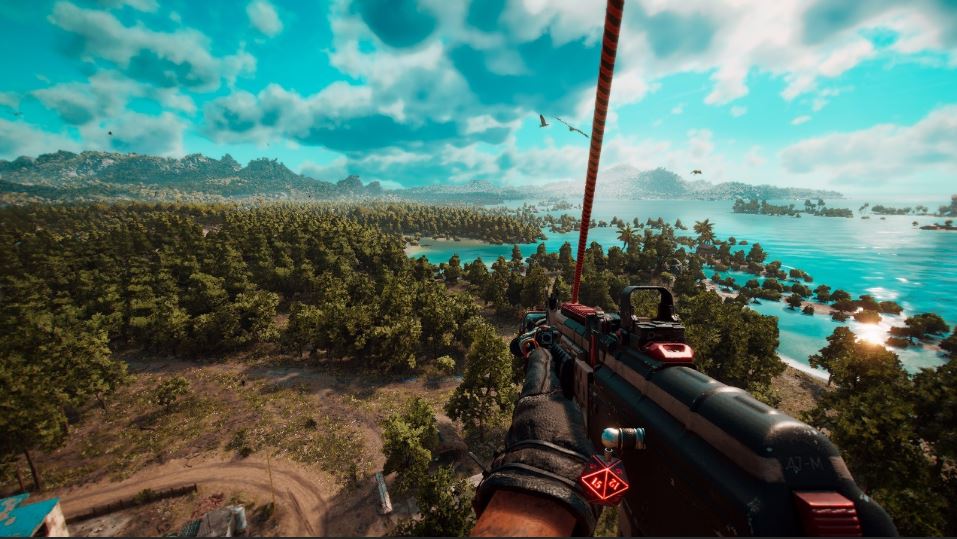 Far Cry 6's story touches on sensitive themes like decades of poverty, public executions, slavery, and torture. In other words, the overwhelming oppression that is led by Antón Castillo. The game is explicit; you see how terrible this dictator is and what he's willing to do to achieve his true vision of "Paradise," as he calls it.
Outstanding Latin American Culturalization 
The cultural aspects of the game make you feel like you're in Latin America. As a native Spanish speaker, I rejoiced seeing that all the road signs, graffiti, propaganda, and even Dani's phone were in Spanish. It's a truly immersive experience. The localization team outdid themselves in this regard; localizing all the in-game art to Spanish delivered an authentic experience to gamers worldwide.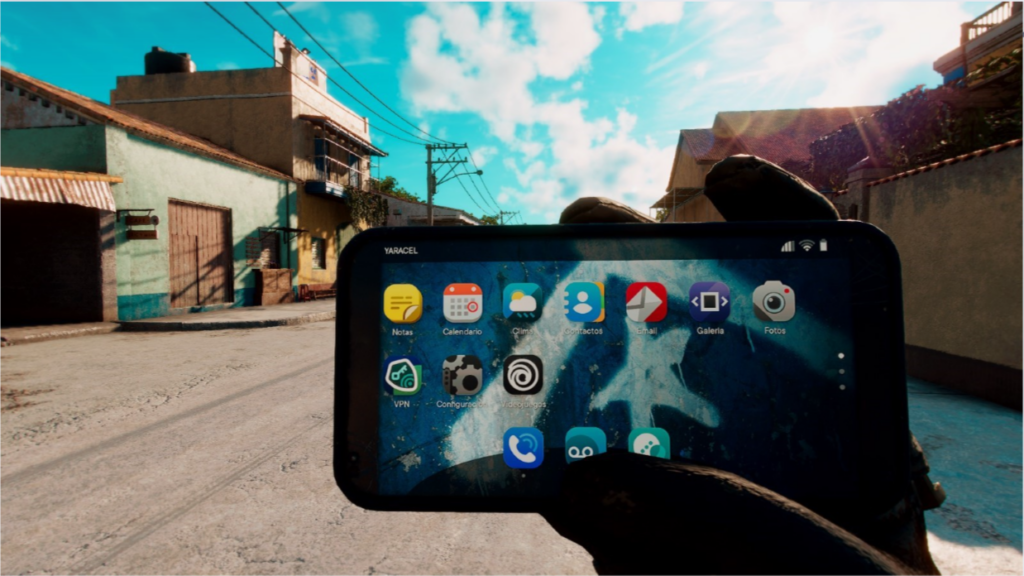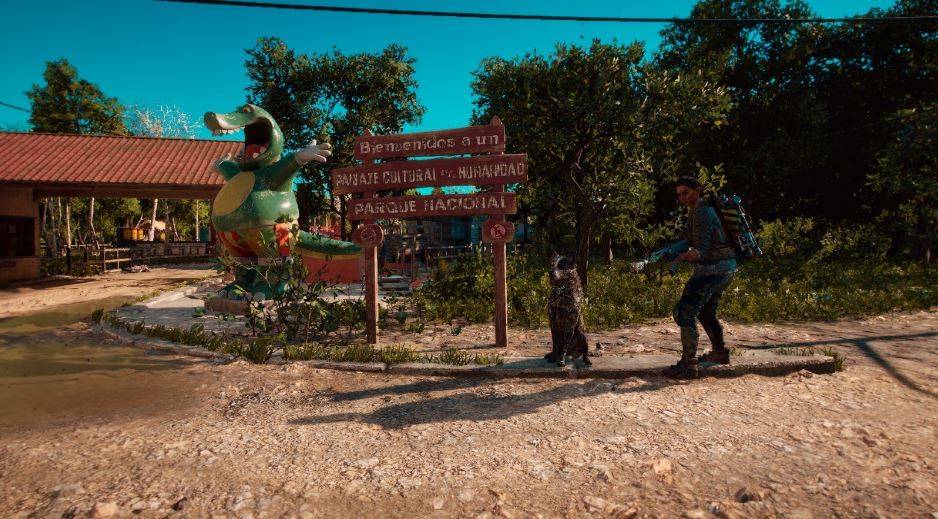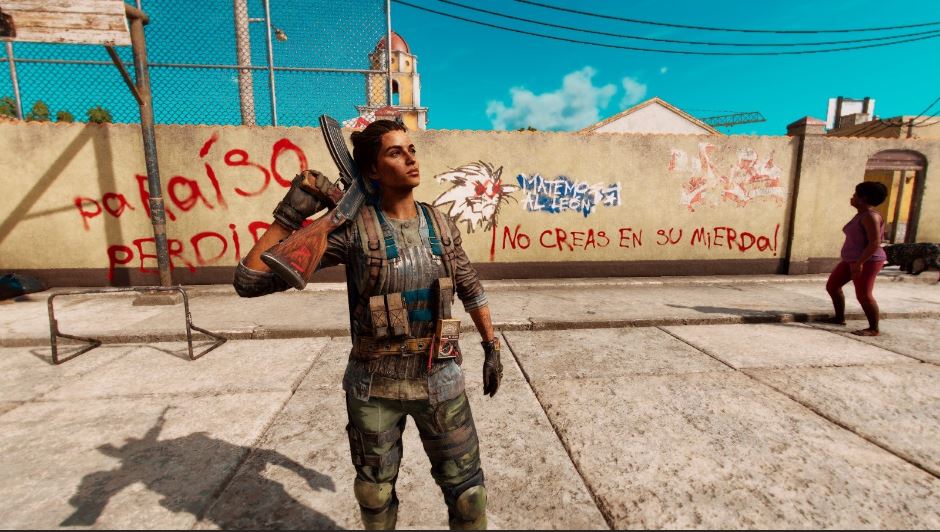 I first played the game in Spanish and was surprised to hear soldiers and NPCs speaking in Spanish, even when I later switched the game to English. However, as the game is set in a Latin American country, I would have loved to hear even more Spanish or maybe stronger accents. I'm talking specifically about Anton Castillo, who never says anything in Spanish, only English. Everyone else in the game uses Spanglish to communicate. Spanglish is common in some parts of the United States and Mexico, or with Hispanics who are heavily influenced by English, like immigrants in the US. However, people in Latin America speak Spanish.   
It feels like a missed opportunity. I would have loved to hear Latin American Spanish everywhere or perhaps to have the option to choose, like in the latest Shadow of the Tomb Raider game, where you can choose to play the immersion mode, and all the NPCs start speaking their native language.
Another pleasant surprise is that Dani sings along to the radio in perfect Spanish. The licensed music that plays in the car makes every trip more stimulating, insightful, and fun. Listening to Daddy Yankee, Maluma, Don Omar, Gente de Zona, Vicentico, etc., is a highly satisfying immersive experience. It took me back to family road trips across Argentina when we'd all sing along to every song together.
The game's music can transport you to Latin America, from the songs you hear playing on the radio throughout the game that is reminiscent of happy times, to the other music that evokes some fear or even the paranoia of being watched and judged, like the military march, political propaganda, or the Yaran anthem. Ubisoft did a fantastic job when hiring all Latin American voice actors and music composers. It highlights the sentiment, the special flavor of this part of the world, and the authenticity of our region. Like Residente from Calle 13 said: "Aquí se respira lucha," we breathe the struggle, and you can feel it in the music.
Playing This Game as a Latina 
As soon as the game starts, you learn that Dani Rojas only wants to run away from Yara to Miami. (Spoiler alert! You can do it, and that's how you get to one of the game's secret endings). But, for the game's sake, you find yourself hooked on the story and wanting to help the country.
The main character's desire to leave the country is one of the most relatable things to me and many others living in Latin America. We're familiar with crisis and instability, and there's a widespread perception that stability is only achievable outside Latin America.
Personally, what Ubisoft has achieved with Far Cry 6 is to tell a meaningful story, display a part of our history, and take on a topic that might evoke fear. But fear should not stop us from wanting to explore and learn more about our history. After all, as George Santayana famously said, "those who cannot remember the past are condemned to repeat it!"