On February 24th, after years of threats and fighting related to territorial sovereignty, Russia invaded Ukraine and stoked old fears of a third world war. As usual, the victim is the society in general, which is never taken into account for the decisions made by top leaders.
For Ukraine, bombs, death, evacuations, and a complete halt of daily life are the consequences of these decisions. Logically, video games were not left out of this dynamic.
The Role of the International Video Game Industry
Dozens of studios with games in the middle of development had to stop work and prioritize the most precious things in our lives: family, friends, and our own lives. These are moments where nothing else matters, just what is essential. Safety and getting out of danger were required.
That is why the video game industry and thousands of its fans united to give what they could to the victims of the military conflict.
Some studios donated their profits, while others acted against the invading country. Measures that may even be seen as questionable because they directly affect the Russian people and not their government, but what is clear is that the situation demonstrated the worldwide industry's underlying solidarity.
And that's why it was interesting to look back on those cases and compile them here so we don't forget.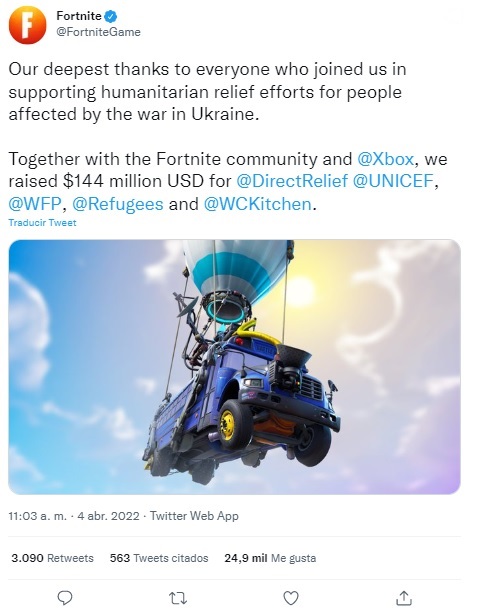 Worldwide Assistance
The largest donation of all came from Epic and Xbox. Both companies have pledged the profits from Fortnite earned between March 20, 2022 and April 3, 2022.
"Along with the Fortnite community and Xbox, we raised $144 million dollars for Direct Relief, UNICEF, the UN Food Program, the United National High Commission for Refugees, and World Central Kitchen in support of their humanitarian aid efforts for the people affected by the war in Ukraine. A most sincere thank you to all those who contributed", Epic stated on its official website.
But even if that was the largest registered donation, many other studios and gaming brands weren't left out of this humanitarian movement.
Ubisoft, which has offices in Ukraine, decided to help its employees by providing an advance on their salary as well as additional funds. "For the last few months, we've been monitoring the situation and taking action to help them as best we can by helping to keep them safe and providing financial support. In light of this dramatic escalation, we're totally mobilized to continue to provide them with additional support. Their safety is our number one worry", the French-based company said on Twitter.
Ukraine Is Not Alone
Some days later, it even added its name to the list of donors by giving €200,000 to the Ukraine Red Cross and Save the Children. These are organizations that have made direct contact in the conflict zone.
"To stay closely connected to all of our team members, Ubisoft has created direct lines to provide them with personalized help and support. We've also established an emergency communication system to ensure we can stay in touch with our co-workers under all circumstances", the company added, which owns the epic sagas such as Assassin's Creed, Prince of Persia, Rayman, Far Cry, and many more.
$222,000 dollars was also donated by the Polish company CD Projekt Red, creators of The Witcher, Cyberpunk 2077, and owners of the GoG platform. Another $690,000 came from 11 Bit Studio, those behind This War of Mine, a game that seems right on the money in terms of theme since it focuses on the suffering in civil society during a war.
Donations from AAA Studios to Indie Platforms
And the list of those giving from the industry worldwide continues to grow to all corners of the world because Embracer Group, the company that purchased the Argentine studio Nimble Giant in 2020 and recently acquired Square Enix's western division (Tomb Raider, Deus Ex, Just Cause, etc.), was added to the donor list by giving a million dollars to various humanitarian groups. Finally, it's worthwhile to note three completely different "main characters". The Pokémon Company from Japan gave $200,000 dollars to Global Giving. The legendary John Romero, creator of DOOM, showed his creativity by developing a new level for his game's second installment and donated the $30,000 dollars raised. And finally, the Itch.io platform gave $5 million dollars with the sale of a pack of 991 videogames. Impressive is an understatement.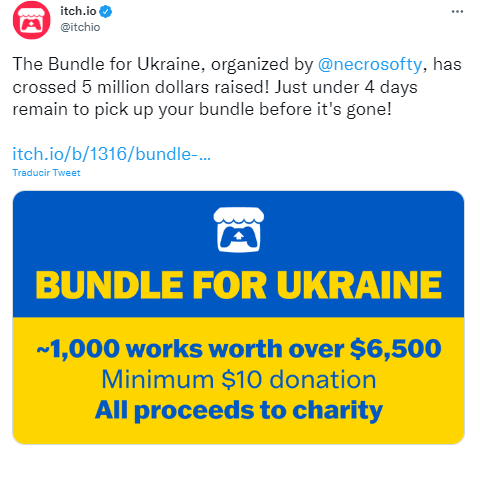 The solidarity within the gamer community is deep for fans and companies. This newly compiled summary is just a fraction of the empathy shown towards Ukraine, and there are many more cases.
Gamers Are Not the Problem
What is still up for discussion are the boycotts that only affect Russian citizens, who are just as innocent as the Ukrainians. For example, Rockstar made GTA V, the second-best-selling game in history, unavailable in Russia; Nintendo blocked payments made in Russia's Putin-controlled currency; EA Sports made the Russian National Team disappear from FIFA 22… and so on.
It's clear and logical that the opinion of the public and those managing our economic power are determined to not accept the invasion of Ukraine. The problem is that many times the cost involves hurting people who had nothing to do with the decisions made by their top leaders.
As we said at the start, it's innocent people who always pay. But what's important is that in spite of these injustices, there are always people who are there to help. In this case, it's the video game industry and its fans.
The most notable example of the Ukrainian resistance in terms of video games was the anticipated debut of Stalker 2, which had to stop development and signed off Twitter saying:
"The Russian Federation has declared war on Ukraine. The future is unknown, but we believe in our Armed Forces and our country. We ask everyone to get involved and help those in need".
Some days later they confirmed that as expected they had stopped work on their new title and stated: "We will now focus on helping our employees and their families survive. The game's development has been put on hold, but we will definitely continue after our victory".
GSC is obviously not the only internationally recognized Ukrainian Studio. The crew from Frogwares (Sherlock Holmes) also used their networks to share their suffering in real-time:
"The team is deployed all across Ukraine right now. Trapped under bombs, with tanks and mechanical artillery just under their windows". Without a doubt the most moving images we've received from developers.
Those who saw this coming ever since 2014 were the creators of Metro, who moved to Malta after an escalation in violence and the annexation of Crimea.